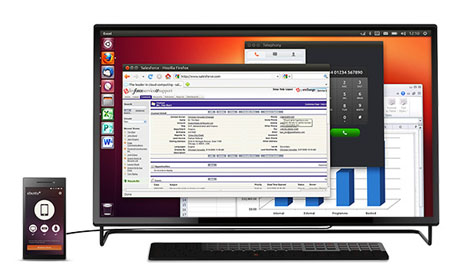 Canonical's Ubuntu Edge smartphone will also be able to act as a desktop computer
Early backers for Canonical's 
Ubuntu Edge
 smartphone-PC hybrid pledged nearly $3.5m in the first 24 hours of its 
campaign on crowdfunding site Indiegogo
, while the total has since grown to $5.7m.
That represents just under 18% of the $32m target for the campaign with 28 days to run, thanks to a scramble to secure one of the 5,000 devices being offered for $600 to first-day backers.
Latecomers were left to pay $830 for the device, a smartphone which dual boots between Android and Ubuntu, and is capable of being connected to a monitor and Bluetooth keyboard to act as a PC.
Now Canonical has introduced a set of lower pricing tiers, in what it says is a direct response to feedback from potential buyers. The limited-edition tiers range from 1,250 Ubuntu Edges available for $625 to 7,000 at $820, with the $830 tier remaining "unlimited".
"You told us you want more opportunities to get the Ubuntu Edge at a lower contribution level, so we went back to our spreadsheets and came up with a solution," explains an update on the Indiegogo campaign page, which also deals with potential unrest over people who'd already pledged to pay the highest price.
"Hundreds of you have already contributed $830 for an Ubuntu Edge, but don't worry. We'll refund the difference at the end of the campaign so you won't lose out. We'll contact you all directly with more information."
Reaching $5.7m in pledges is big news for Indiegogo, which is on a drive to remind the world that there is more to crowdfunding than just rival site Kickstarter.
"It has been the fastest crowdfunding campaign ever to reach the $2 million mark, achieving this in under 8 hours. Should it reach its target of $32m in the space of a month it will be Indiegogo's highest grossing campaign ever," said Indiegogo's Kate Drane.
Her job title – director of vertical market development, design and technology – indicates Indiegogo's desire to do more with technology products. The Pebble smart-watch and Ouya Android console raised $10.3m and $8.6m respectively on Kickstarter in 2012, with both shipping this summer.
Canonical's attempt to raise $32m represents a step up in terms of ambition, but also in risk. If it sells the 28,500 Ubuntu Edge units across the new, cheaper tiers, that will mean just under $22.4m in sales to add to the $3m from the initial run of 5,000 $600 units.
That will still require nearly 8,000 people to commit to paying the highest $830 price for the device. Even so, if Canonical hits its target, it will be an important moment for other technology firms considering crowdfunding as an alternative to traditional financing for their hardware.
Posted From ; http://www.theguardian.com/technology/2013/jul/25/ubuntu-edge-cheaper-price-crowdfunding